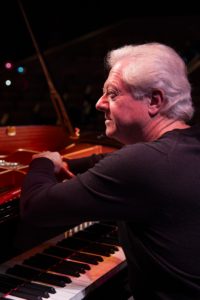 Jerome has many years of experience as a studio musician and Emmy Award winning composer and producer. He holds a bachelor's degree in Jazz Performance and a Masters degree in Composition, and offers lessons in contemporary piano, music theory, composition, improvisation, and digital music production (Digital Performer and Sibelius software). Lessons are tailored to your specific needs and goals and every effort is made to make lessons fun, interesting and rewarding. He works with beginners and advanced students and provides a strong musical foundation while helping you learn to play the music you want to play. There is no charge for the first meeting and lesson.
Jerome's teaching approach features solid training in music theory that lays a groundwork for success in any genre of music, whether the student's interest is in performing or creating music, or both. He helps the student develop strong, traditional technique with a focus on applying it to contemporary pop and jazz musical styles. And he utilizes the latest technologies available to help the student learn and develop quickly.
"I love to help students discover the joy of playing and creating music. Few experiences can match the lifetime benefits of being involved in music, so I'm extremely happy to share this passion of mine with others."
Openings are now available for new students.
Register here:
Login for Current Students:
For more information, or to schedule an interview, contact Jerome at: